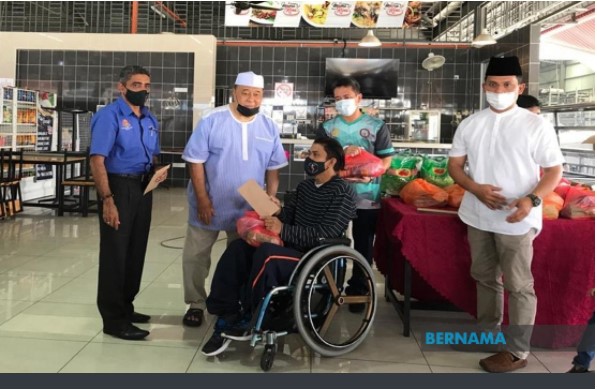 KAJANG, April 18 — The Ministry of Youth and Sports (KBS) and the National Sports Council (MSN) have never neglected the welfare of the country's two former para-athletes who recently claimed they did not receive adequate assistance from the government.
National Athletes' Welfare Foundation (Yakeb) chairman Datuk Noorul Ariffin Abdul Majeed said the two former athletes, P. Mariappan (powerlifting) and Faridul Masri (athletics) who now live in the capital, could likely be facing high living costs, and hence felt the assistance received was insufficient.
"We are a little disappointed because Yakeb and MSN have helped Mariappan to get the Olympic or Paralympic Fixed Incentive Scheme of RM2,000 a month (since 2015).
"Faridul was offered a job with MSN recently, and it is hoped that he will accept the offer," he said at a press conference today.
Noorul Ariffin said this after attending a ceremony to hand out donations to 15 former national athletes organised by Sahabat Infaq Malaysia and Heart of Petroleum Economics Social Club (HOPE) at a restaurant in Bangi near here.
Mariappan's plight was featured in a video published by a media portal based in New York, USA, which was posted on Youtube on April 7, while a local portal published a story about Faridul on Thursday (April 15).
Mariappan, 63, claimed that the government had not helped him after his retirement in 2012, while Faridul, 40, who previously enjoyed an achievement allowance of RM2,000 per month for active athletes, said he did not have a fixed income after being dropped by MSN in 2018 due to his age factor.
Mariappan was the first national athlete to win a medal at the Paralympic Games by collecting a bronze medal in the 1988 edition in Seoul, South Korea, while Faridul has won many medals including gold at the ASEAN Para Games and the Asian Para Games.
Meanwhile, Noorul Ariffin described the passing of former shooting champion Datuk Sabiamad Abdul Ahad who is also the patron of Sahabat Infaq Malaysia and a former board member of Yakeb, as a great loss to national sports as he had contributed much to ensure the welfare of former athletes.
Sabiamad, who died of a heart attack on April 10, had represented the country at the 1984 Olympic Games in Los Angeles, USA. He began his career as a national shooting athlete in 1981 before retiring in the early 1990s.
sumber daripada : BERNAMA